Kitty R. and Sir Last get totally defeated by the relaxation that a tropical island imposes on them. Nothing really happens. Almost nothing.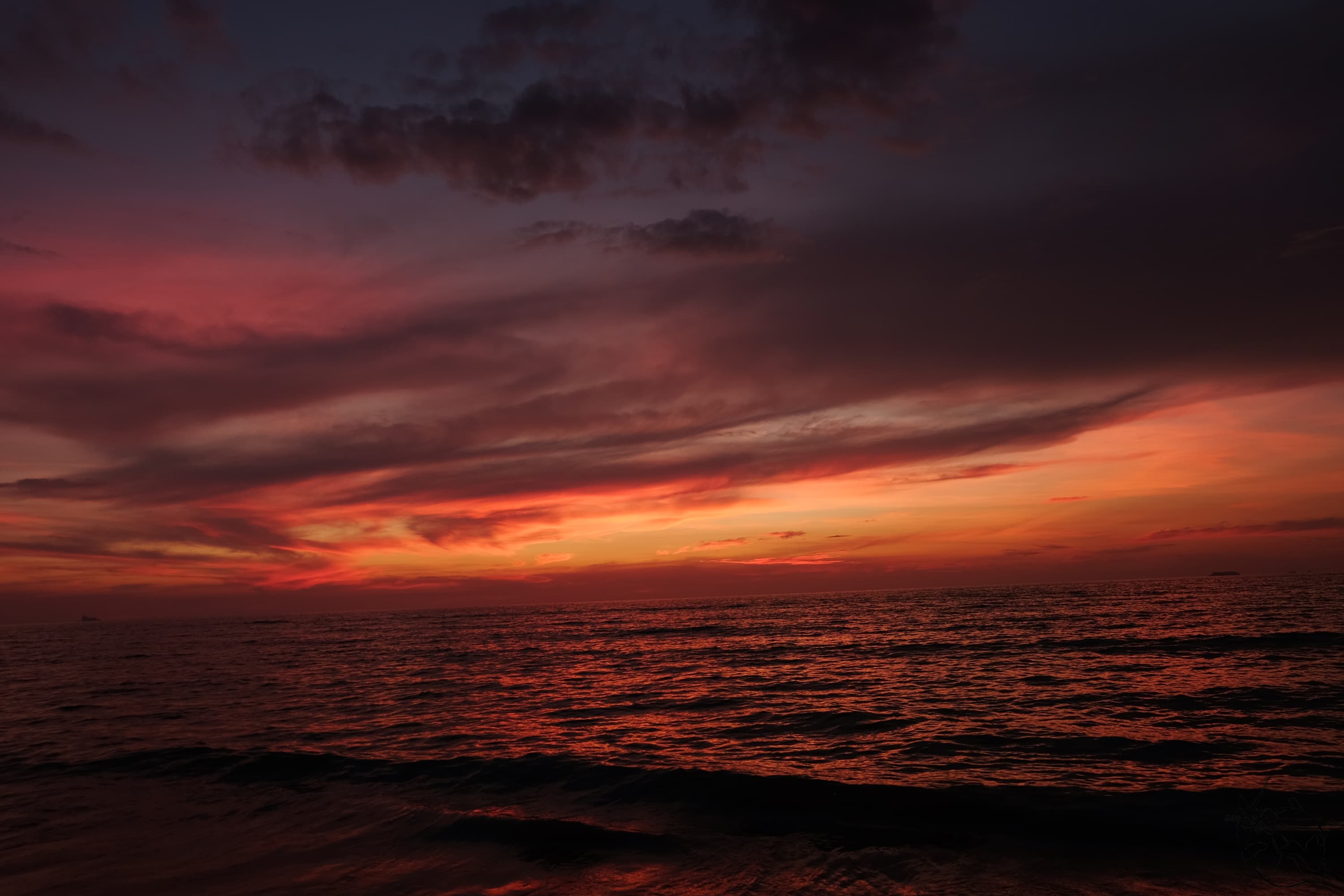 Kitty R. and Sir Last arrive on Koh Lanta- a tropical island. Kitty R. has never seen so many happy people at once. Arrivals, tourists, locals, cats, fish. All smiling, happy, relaxed. In the morning, in the evening, at night. On the beach, on the street, in front of the bungalow. Ubiquitous chillout. Land of happiness. From time to time someone with a bandaged leg or hand flashes as a memory of an accident on a scooter. But still flashes with a smile on face. Fish in mango sauce, grilled calamari with cashew nuts, fried bananas served with honey. And chocolate flakes with milk (breakfasts Kitty R. and Sir Last prepare by themselves, using the bottoms of water bottles, Tomasz thanks for the gift-spoon!).
When in the horizon flashes, it is a sign that a storm comes. But it always comes slowly, as if with a delay caused by laziness (Flash! See you in an hour or two! Flash!). How much time it gives to take the laundry back home!
Bamboo rules in the south. Whole restaurants, houses, furniture, and even such details as door handles, windows, or cups for coffee. Everything is made out of this springy, but tough grass. (Kitty is delighted!)
Kitty R. and Sir Last, in the mask for snorkelling (one to share as who will carry it later on?) float on the surface of the warm water (just so hot as Kitty pours to the bathtub on European evenings) and observe underwater life (colourful fish do not run away, lazily they keep nibbling whatever rocks bring to them). Hours pass, then days of burnt backs and calves from the sun (smear the cream with the filter before? It damages the coral reef!). And after a few days, when the skin from the back is off, Kitty R. and Sir Last sail on the sea. Crystal-clear depths and intersecting shoals full of iridescent-colored and different-sized fish (Kitty R. is experiencing a real depth of admiration, and oh! That silence under water!).
Certain things seem to be inscribed in the island life permanently. Massages, spectacular sunsets and thousands of sand crabs slipping on the beach like a dust. But right next to it…
Kitty R. has the impression that everything here is black and white. Tourists-locals. We-they. The barrier is hard to overcome. Lack of linguistic communication contributes to narrowing maneuvers to get out of assigned roles. West-East. Bikini-Hijab. Karaoke-Adzhan. Kitty R. tries not to judge, to accept how it is from all sides. Only at some point her attitude breaks by fishing and modern slavery life. In the evening, she watches: https://www.theguardian.com/global-development/2014/jun/10/supermarket-prawns-thailand-produced-slave-labour
The next day, when Kitty R. notices that someone made a circle of stones on the sand and wrote 'She said Yes!' Kitty has before her eyes a whole range of possibilities for what she could agree for. And for what not.